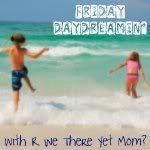 Hello and welcome to Friday Daydreamin'! Don't you just love daydreaming about your next vacation?? I do!! And that's why I love Friday Daydreamin'! Grab a cup of coffee (or a Diet Coke) and visit some of the blog world's favorite vacation daydreams!
Ready to Daydream your Friday away? It's simple!
1. Post your favorite vacation picture and tell us a little about it.
2. Grab the "Friday Daydreamin'" button and link up your post below.
3. Visit some of the other amazing vacation photos that have linked up (and leave some comment love!)!
4. Let the Daydreamin' begin!
As we head into a HOT HOT HOT weekend (at least where we are), this Friday Daydream is about yummy vacation treats. While in Destin this past summer, we found a local ice cream shop that offered kiddie cones for sweet girls & boys. This boy enjoyed every last bit of it. Who cares about sticky messes & heavy calories? Your on vacation!
*****Make sure you check out our
giveaway
for My Memories Digital Scrap Booking Software!! Contest ends next Thursday, Sept 8.
Make sure you link up your Friday Daydreams below. Visit a few of the other Daydreams and leave some comment love!!