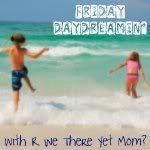 WOW!! Thanks to all of you, we had 17 Daydreams posted last week!! I had more fun visiting all of your blogs and reading about so many cool locations last week. Kid-friendly comedy clubs, kissing blarney stones, and hugging on the Rock were a few of the funniest ones I visited!!
I love that many of you are getting creative in your vacation-sharing - whether it be a dream vacation for an anniversary to Costa Rica or the beach that is 20 minutes from your doorstep - It gives me a chance to escape this hot Texas morning and daydream. Thank you.
My hope is you are enjoying this meme as much as I do.
So, where are we off to today?
Today my daydreams are in the past.
I have always loved traveling. And my family has always loved it too. Whether it be in a Winne with my grandparents heading to Disney World when I was a youngin', like in the above photo. Or traveling the west one summer with my parents (we camped the entire summer!!), I know that my family instilled this sense of adventure in me from the very beginning.
Where do your traveling roots start?
****NEXT WEEK!! We will stray a bit from our usual vacation photos! Post a picture of your favorite Halloween photo and tell us about it!! I can't wait!!
Ready to Daydream your Friday away? It's simple!
1. Post your favorite vacation picture and tell us a little about it.
2. Grab the "Friday Daydreamin'" button and link up your post below.
3. Visit some of the other amazing vacation photos that have linked up (and leave some comment love!)!
4. Let the Daydreamin' begin!