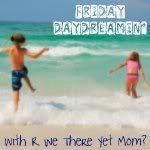 Happy Friday! Are you ready to look at a bunch of GORGEOUS vacation pictures and daydream? I have loved all the posts that have been linking up each week and look forward to every Friday morning with my big cup of coffee!
This week inspiration is all about relaxation.....The Spring is gearing up to be a busy one and I am so wanting a vacation with my hubby. Six years ago (has it really been 6?) we took a week long vacation to Costa Rica - it was heaven. Everyone deserves to get away with their spouse!
No superstition here on this Friday the 13th! Link up your vacation picture posts below and take a few minutes to visit some of the amazing vacation photos and stories others have linked up too.
Hungry for more travel photo adventures? Please visit Travel Photo Thursday from
Budget Travelers Sandbox
and
Delicious Baby's Photo Friday
.