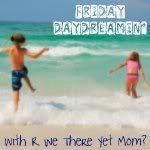 Happy Friday friends! Time for Friday Daydreamin'! We took a few weeks off in December to focus on the holiday but we are BACK and I hope you will join up with us this year for a whole new "Friday Daydreamin'!"!!
Join us each Friday by linking up your favorite travel post of the week and I will do my best to see them all over the weekend. But i hope you will take a few minutes and visit some of the link ups too.
I love this link-up party because I get to learn & see so much travel through the eyes of all my fellow travel bloggers. I have learned so many amazing things and seen some gorgeous pictures thanks to y'all sharing your travels here. I hope you continue to do so.
On to my traveling.....
Over the Christmas Break, the kids and I took a week to visit some amazing sites up in the Dallas/Fort Worth area. Here is a quick snapshot of just a few cool things we saw while there, thanks to Instagram.
We looked at some amazing art at the Kimbell Art Museum.
Saw an actual cattle drive through the streets of Fort Worth.
Ran against the clock in a pretty tough Cattlepen Maze at the Fort Worth Stockyards.
Explored the amazing Fort Worth Water Gardens.
Took a VIP Tour of the new Cowboys Stadium - kids loved the Cowboys locker room!
Felt an earthquake and flew like a bird at the brand new Perot Museum in Dallas.
Played board games in the new Klyde Warren Park in Downtown Dallas.
Toured the Sixth Floor Museum - this is a picture from the 7th floor window, directly above the one Lee Harvey Oswald took a shot from.
Fed a bunch of hungry stingrays at the Dallas Children's Aquarium.
And fed a giraffe later that day at the Dallas Zoo.
It was an incredible week - we saw so much more than this, but if these 10 pictures don't have you planning your next trip to Texas, I don't know what will. But I happen to be a little biased.
Please link up your favorite travel post of the week. And I ask that you visit a few of your fellow linkers too!