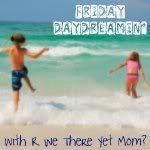 Happy Friday friends! Time for Friday Daydreamin'!
Join us each Friday by linking up your favorite travel post of the week and I will do my best to see them all over the weekend. I hope you will take a few minutes and visit some of the link ups too.
I love this link-up party because I get to learn & see so much travel through the eyes of all my fellow travel bloggers. I have learned so many amazing things and seen some gorgeous pictures thanks to y'all sharing your travels here. I hope you continue to do so.
Last Friday we met some "new" friends. But in all honesty, they weren't that "new". As a travel blogger, I have the unique privilege of having a common bond with many other travel bloggers (we have a passion for travel) and that brings you together instantly - both online and offline. So when you actually do meet in person, it's as if you've known them for years.
As it was last week when we met the Citarella family - the
Tips on Road Tripping
family. This traveling family from New Jersey was in the middle of their 3 week road-trip when they met up with us at the Alamo in San Antonio. We hit it off instantly. There was so much to talk about and so little time - I was only there for less than an hour on my son's field trip.
So we met up again on Saturday at SeaWorld San Antonio. Our kids hit it off and wanted to spend the rest of the day together, which was great as it gave me time to pick these road-tripping EXPERTS (thought they humbly say they are not) brains. "How do you pack your car for 3 weeks on the road? " "How do you plan out where to stop?" "How do you find all these fun & funky roadside attractions?" Seriously, y'all - they could write a book on it! This isn't their first road trip - they have been doing this for years all over the US and Canada.
We had so much fun on Saturday, that I invited them over for dinner on Sunday as they were in my town. Again, we talked for hours - as if we had known each other for years. And now I have good, new friends. If you are not following them on
Facebook
, you really should - especially as a fellow travel lover, this family will inspire you to throw the family in the car and GO!
So, not daydreamin' about meeting new friends - I actually did that this week - but I am Daydreamin' about hitting the road in a trip this summer - one I will rely heavily on my new friends' advice!!
What are you daydreaming about this week? Link up your favorite travel post of the week below and take a few minutes to see what everyone else is daydreamin' about!