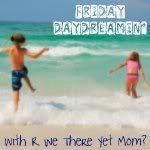 After a week away, this mom is ready to Daydream! Who's with me???
Want to wish away a Friday morning dreaming about vacations? Post your favorite vacation photo, tell us a little something about it and link up!
5 years ago this week, we were with 2 precious munchkins at the crazy place I affectionately call "The World". It was my oldest son's 4th birthday and all he wanted to do was meet the cast of Cars. He was speechless when they all drove out and didn't want to leave them...kept staring at them as if they were all some strange dream.
That is my favorite part of Disney - whether it's Pooh, Cindy, or plain ole' Mickey, these sweet children are in love - and Disney does their very best to make it one heck of a memorable moment for them. And their mommas......
Ready to Daydream your Friday away? It's simple!
1. Post your favorite vacation picture and tell us a little about it.
2. Grab the "Friday Daydreamin'" button and link up your post below.
3. Visit some of the other amazing vacation photos that have linked up (and leave some comment love!)!
4. Let the Daydreamin' begin!