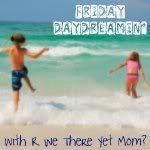 Hello and welcome to Friday Daydreamin'! This is the place where you can spend a little time remembering one of your favorite vacations....weekend trips....staycations with the family....or just any old time that allowed you to "escape". Post a picture, tell us about it, and Link Up. We had 8 daydreams last week - help us try to double that!!
Ready to Daydream your Friday away? It's simple!
1. Post your favorite vacation picture and tell us a little about it.
2. Grab the "Friday Daydreamin'" button and link up your post below.
3. Visit some of the other amazing vacation photos that have linked up (and leave some comment love!)!
4. Let the Daydreamin' begin!
This week's Daydream is full of lovin' me tender, teddy bears, and jailhouse rockin'....yep, I am like every other cliche' of a tourist. I went to Graceland this summer. My sweet 10 year old's favorite 4th grade teacher LOVED Elvis, so when she caught wind of us driving through Memphis, she insisted we stop by.
And I'm glad we did - Sparkled Jumpsuits, mirrored ceilings, and all...... We laughed at the gaudy rooms in their 70's decor and solemnly talked about the impact he had on music and how sad it was that he died so young. Just me & my girl went. It was one-on-one time that I will never forget. I only hope there is more days like this to come.
Make sure you link up your Friday Daydreams below. Visit a few of the other Daydreams and leave some comment love!!