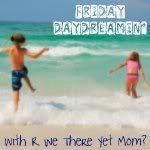 I love Fridays! I love having so many people link up and show us their favorite vacation photos! Now I know I don't need to bribe you to join in on the daydreaming, but link up today and watch for a little shout-out on the Facebook!! (Make sure you like R We There Yet Mom?'s facebook
page
too!)
Today I am dreamin' about Family - while some vacations are to far-off destinations, historical locations, or playful fun, some of the best vacations are spending time with family. There is nothing my family loves more than being together. This past summer, we had such fun playing with the cousins, visiting with Grandmas, Papas, Aunts, & Uncles, and relaxing around people who know you so well. Sometimes, these are the most restful vacations of all.
Ready to Daydream your Friday away? It's simple!
1. Post your favorite vacation picture and tell us a little about it.
2. Grab the "Friday Daydreamin'" button and link up your post below.
3. Visit some of the other amazing vacation photos that have linked up (and leave some comment love!)!
4. Let the Daydreamin' begin!