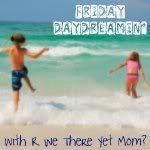 Happy Friday!! We are back ~ our little Friday fun ~ Whose ready to daydream about a place you'd rather be at??
ME! ME! ME!!
All this cold weather has me daydreamin about a much warmer climate. Now I know, many of you "northern folks" are shaking your heard at my little complaints about cold weather...thinking we Texans don't KNOW cold! And you're right - but it is all comparable - 40 degrees to me is 10 degrees to you - it's all relative....and all COLD!!!
So who needs a beach? This gal!!
And as this is the first installment of Friday Daydreamin' in 2012, I thought it would be fun to feature our button picture from our trip to the beach this summer!!
As a Central Texas Family, we are 3+ hours from a beach.....and not a very pretty one at that. Let's just say, Texas beaches have nothing to brag about. We have been wanting to plan a trip to Florida for years and this past summer we did it. We rented a house and laid (literally) on the beach all week. No phones, no computers, just the kids, my hubby, and an ice chest full. It was heaven. And I can't wait to go back.
New to Friday Daydreamin'?
This is a weekly meme to daydream about places you'd rather be. Post a picture from a past vacation, a spot that's on your bucket list, your favorite local park, or the best piece of pie in your city. The point of the fun is a simple post on Fridays about something that makes you happy - vacation, times with family, relaxation, solitude, a full belly - we want to know.
Simply post a picture on your blog and link it up with us! Then grab a cup of coffee and be ready to daydream as you visit all the great posts - e sure to give some comment love!!
Can't wait to see what y'all are daydreamin' about today!
*****************************************
We are going to have a little fun next week! We are partnering with
Darling Memories
and creating a movie of all the fun 2011 vacation pictures from my readers to highlight on the blog!! If you have a few fun pictures that you would like to contribute, please email them to
rebecca@rwethereyetmom.com
by Sunday, Jan 15. Be sure to come back early next week to check out the fun!!
*****************************************