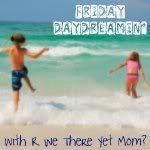 Happy Friday! Whose on Spring Break out there? I know I have seen a few friends traveling via the posts they are leaving on Facebook.
We just finished out Spring Break last week and had such a fantastic Staycation - home every night - very little spending - and say so many things. Take a look at what all we saw:
What about you? How was your Spring Break? Or maybe I should ask, how will your Spring Break go? Let us know! Link up a picture & a post today.
It doesn't have to be about Spring Break - so link a travel picture away that allows us to Daydream!
Hungry for more travel photo adventures? Please visit Travel Photo Thursday from Budget Travelers Sandbox and Delicious Baby's Photo Friday.
***************************************
One last thing! If you would like to be a part of our Spring Break Fun next week, please email me your favorite Spring Break picture to rebecca@rwethereyetmom.com
We will be featuring the pictures on our Facebook page and in a fun movie like the one above! We welcome all pictures - the more the merrier!