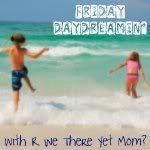 We have had some incredibly beautiful weather here in Texas the past few weeks - Spring has Sprung - too bad it won't last for long. Texans get out and enjoy this time of year, before it gets too hot. So this week for Friday Daydreamin', I am feature more Spring Break photos from R We There Yet Mom fans, many of whom got out and enjoyed what Texas has to offer in the Spring......
flying a kite in Zilker Park
enjoying animals on the farm
Austin Botanical Gardens
Enchanted Rock
Arkansas
Galveston
Tubing down the Guadalupe River
The Grand Canyon
The Alamo
The Cathedral of Junk
What great weather we had! So great to see everyone get out and enjoy it! But alas, some had to deal with snow over Spring Break. At least they made the best of it!
Many thanks to all my R We There Yet Mom? fans for submitting their Spring Break photos.
Link up your favorite travel photos here - I have loved visiting all the amazing places you all have taken us - and be sure to visit some of the posted links - not only is the photography amazing, but you get an incredible geography lesson out of it too!

Galveston on Dwellable