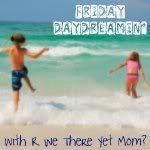 Happy Friday friends! Time for Friday Daydreamin'! My favorite day of the week as I get to armchair vacation through all of your lovely photos!!
I have been tagged in the Capture the Colour Contest by a few friends and I am really excited to participate. Although after seeing some of the amazing entries my friends have posted, I don't think I can even come close to some of their amazing pictures.
To bring you up to speed, Capture the Colour is a travel photo contest sponsored by
Travelmarket
. They have asked us to post our favorite pictures that represent these colors: blue, green, red, yellow, & white. I was really excited to see what I could come up with...I mean I only have over 10,000 photos to go through.....
Blue:
I had many blue pictures to choose from but none of them could compare to my beloved Texas Bluebonnets. Sprinkled across hillsides in March and April each year here in the Hill Country of Texas, bluebonnets means spring has arrived and warmer weather is coming. I have grown up taking pictures in bluebonnets. To me, they are a Texas staple.
Green:
I have never seen so many shades of green as I had when I visited Ireland. Clean, crisp, beautiful green everywhere I looked. I know it is probably a cliche' to post a "green" picture from Ireland, but honestly, how could I not?
Red:
I'm posting this photo more for the comical value and fun memory it brings me than for beauty. Taken back in 2007 on a white-water rafting trip in Jackson Hole, WY, everyone survived, even my friend who got catapulted overboard.
Yellow: This stunning sunset was taken in Costa Rica in 2006 - one of the most lush and relaxing trips we have ever taken as adults, we also came home with some of the most beautiful pictures. The clouds were so lush it looked as if God had smoothed them out across the sky.
White: We spent a week in Seattle looking to see Mt. Ranier each day. It wasn't until we popped up above the clouds on our flight home that we were able to see this gorgeous mountain up close. Isn't it beautiful?
I think many of you have been tagged and have participated in the Capture the Color Contest already, so this is my open invitation for you to join us for this fun. I really have enjoyed seeing everyone's photos and loved picking through mine as well. Please join in and let me know!
In the meantime, please link up your Friday Daydreamin' travel photo posts today. I can't wait to see where you have been!