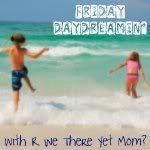 Happy Friday friends! Time for Friday Daydreamin'!
Join us each Friday by linking up your favorite travel post of the week and I will do my best to see them all over the weekend. I hope you will take a few minutes and visit some of the link ups too.
I love this link-up party because I get to learn & see so much travel through the eyes of all my fellow travel bloggers. I have learned so many amazing things and seen some gorgeous pictures thanks to y'all sharing your travels here. I hope you continue to do so.
Spring Break is starting here in Texas and many Texans escape to wintry weather to enjoy some snow skiing. I have tons of friends heading to New Mexico and Colorado this next week. So for today's Friday Daydreamin', I'm going to close my eyes and pretend I am sitting in the back of the sled getting pulled by these gorgeous huskies. These are my kiddos - it was one of our favorite activities while in Breckenridge last month and I can't wait to tell you about it this upcoming week.
What are you daydreaming about today? Need some inspiration? Check out any or all of the blogs linked up below.
And link up your favorite post of the week below!! I'd love to come over and read it!!