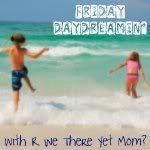 The weather is beginning to cool down a bit here in Texas, which makes me long for those Fall days I used to love when I lived up North. I love the crispness to the air, I loved the leaves changing colors, and I loved all the wonderful, yummy fall food - chili and hot apple cider anyone?
So, today I am day dreamin' about fall.
When the kids were younger, we took them to an amazing pumpkin farm that had a train, bounce houses, an elaborate hay maze and tons of pumpkins. It was always such a fun thing to do with the kids. And helped create such fun memories of an afternoon spent together.
I know we have many visitors to Friday Daydreamin', but not many posters!! I have heard that a few of you don't feel like you have any vacation photos to post - don't let that stop you! Vacations are NOT just hopping on a plane to somewhere different! In our family, vacations can be just down the road at the Inner Space Caverns, a road trip to go see family, our our family dreams of where we'd like to travel to.
Tell us about a favorite local museum you like to visit, your favorite restaurant you went to while traveling, or where your 10-year travel goal takes you! Daydream about what "vacation" means to you and tell us all about it!!
Ready to Daydream your Friday away? It's simple!
1. Post your favorite vacation picture and tell us a little about it.
2. Grab the "Friday Daydreamin'" button and link up your post below.
3. Visit some of the other amazing vacation photos that have linked up (and leave some comment love!)!
4. Let the Daydreamin' begin!